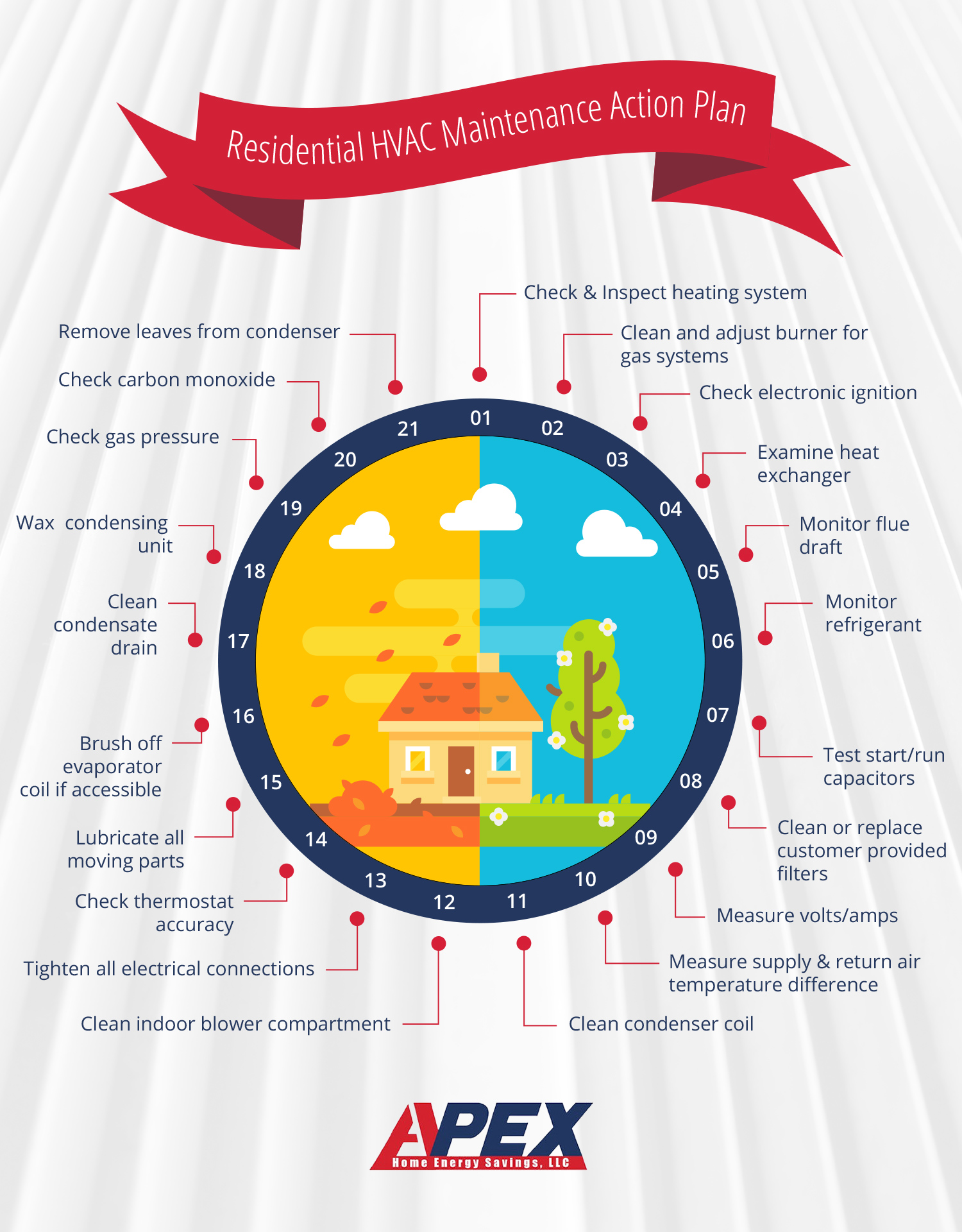 Apex Home Energy Savings is proud to offer the ultimate residential HVAC maintenance action plan—coverage for your home heating and air conditioning systems. You can think of the maintenance action plan as an HVAC VIP maintenance and repair membership! The plan includes two annual 21 point inspection check-ups —one in the Spring and another in the Fall—, ten percent discount on all other services, and no additional charges for after-hours visits. Here is a comprehensive list of what the inspections include.
21 Point Inspection:
Check and inspect heating system: a thorough inspection of your home heating system for signs of corrosion cracks, or separations.
Clean and adjust burner for gas systems: analysis of combustion gases to compare to your furnace's specifications.
Check ignition: ensure that the pilot or electronic ignition is properly functioning.
Examine heat exchanger: full inspection of the heat exchanger to identify cracks which can allow carbon monoxide to escape.
Monitor flue draft: examine flue for obstructions to ensure toxic fumes can properly escape.
Monitor refrigerant: test and monitor refrigerant pressures and temperatures.
Test start and run capacitors: using an analog multimeter, test for faulty run and start capacitors.
Clean or replace customer provided filters: ensures air flow is not being restricted, which can damage system components over time.
Measure volts and amps: measuring start and run amperes, and line and control voltage.
Measure supply and return air temperature difference: using a probe thermometer to test the split temperature measurement.
Clean condenser coil: chemically clean and thoroughly wash condenser coil.
Clean indoor blower compartment: this includes removing the blower wheel to ensure that it is free of dirt and debris.
Tighten all electrical connections: inspect, tighten, and test all electrical connections including controls, switches, relays, transformers, contactors, motors, and fans.
Check thermostat accuracy: test thermostat calibration to prevent overheating.
Lubricate all moving parts: lubrication reduces friction so that the motor doesn't have to overwork.
Brush off evaporator coil: thoroughly clean air conditioning evaporator coil.
Clean condensate drain: remove clogs and clean drain to ensure there is no algae, mold, or mildew.
Wax condensing unit: examine and apply wax to your outside air conditioner condensing unit.
Check gas pressure: check gas pressure with a manometer and adjust accordingly.
Check carbon monoxide: test carbon monoxide levels emitted by the furnace and hot water heaters.
Remove leaves from condenser: thoroughly clean and remove debris from outdoor air conditioner condenser.
In addition to the bi-annual 21 point inspection plan, if you purchase the maintenance action plan with Apex Home Energy Savings, you'll receive a ten percent discount on repairs and service with a five-year parts and labor warranty. The plan is fully transferable to any home you move into. Based on the package you choose—bronze, silver, or gold—determines the amount of repair expenses that can be applied to a new residential heating or cooling system and installation. As a maintenance action plan member, you will always receive priority service and never pay extra for after-hours repairs. For more details, contact one of our HVAC specialists to schedule your obligation-free quote today!